Marcie Thiemann, R.M.T.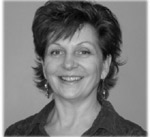 Marcie has been massaging family and friends since she was 6 years old , but it wasn't until she moved to Vancouver, BC when her passion for massage became a reality with her graduation from the West Coast College of Massage Therapy's 2500 hour, 2 year program in April of 1997. She had a mobile business until moving to Calgary in May of 2000.
Since then she has worked in the spa industry, with chiropractors, and at a clinic specializing in maternity massage. Marcie was also an instructor for the massage therapy program at Mount Royal University.
Areas of interest
Marcie's area of interests are in maternity massage, as well as pelvic and shoulder dysfunctions. Marcie believes in relieving her clients' pain and discomfort so their lives are enhanced and their productivity returns.
| | |
| --- | --- |
| MARCIE THIEMANN | Hours |
| Tuesdays and Wednesdays | 2:00pm – 9:00pm |
| Thursdays and Fridays | 8:30am – 3:30pm |